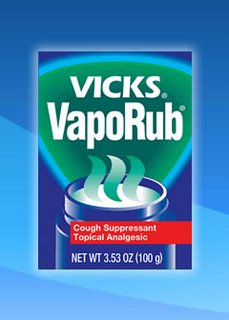 Apparently, I am not the only abuser of Vicks VapoRub out there. However, unlike Aunt Jackie (see
yesterday's
comment section), I have never
eaten
Vicks -- I am strictly a "sebaceous nasal abuser" of the substance. As part of my recovery program, I am required to do this Public Service Announcement on the proper usage of Vicks VapoRub...
According to my jar (and the
Vicks
website), the DIRECTIONS FOR USE are as follows:
See important warnings under "When using this product."

* Adults and children 2 years and over:


Rub a thick layer on chest and throat or rub on sore, aching muscles.
Cover with a warm, dry cloth if desired.
Keep clothing loose about throat/chest to help vapors reach the nose/mouth.
Repeat up to three times per 24 hours or as directed by doctor.

* Children under 2 years of age: Ask a doctor.


Other Information

* Store at room temperature.

Questions? Call 1-800-873-8276.
Okay, that's all fine and good, but I still fail to see how a child under 2 years of age can:
Read these directions.
Call a doctor.
Assuming the fucking receptionist will ever actually put the doctor on the phone, is a baby really articulate enough to ask the doctor any questions about the use of this product by someone his/her age?
Hmmmmm? Moving on.
The WARNINGS are as follows (I have made bold the particular sections of interest that relate to the forms of product-abuse engaged in by Jackie and me ):
For external use only; avoid contact with eyes.

Do not use:


By mouth
With tight bandages
In nostrils
On wounds or damaged skin


Ask a doctor before use if you have:


Cough that occurs with too much phlegm (mucus)
Persistent or chronic cough such as occurs with smoking, asthma, or emphysema


When using this product, do not:


Heat
Microwave
Add to hot water or any container where heating water. May cause splattering and result in burns.


Stop use and ask a doctor if:


Muscle aches and pains persist more than 7 days or come back
Cough lasts more than 7 days, comes back, or occurs with fever, rash, or persistent headache


These could be signs of a serious condition.

If pregnant or breast-feeding, ask a health professional before use.

Keep out of reach of children. If swallowed, get medical help or contact a Poison Control Center right away.


©2007 Procter & Gamble. All Rights Reserved. All copy and claims valid only in the U.S.
I must say, I had never considered
microwaving
my Vicks before, but...
And, I love the fact that "All copy and claims valid only in the U.S." So, if I am in say, France, I could do ANYTHING with Vicks VapoRub (including putting some on my pooper, for freshness) because none of these warnings would apply there!
Awesome.
Of course, it does not surprise me at all that I am an abuser of Vicks VapoRub --
considering Jackie's history of eating it until the age of 30
-- we come from the same maladjusted, Vicks-abusing family. I am quite sure that her older sister, aka my Mommie Dearest, was probably the one who fed it to her for the first time, as their mother probably did to her...Yes,
my own mother
started me on the path to my greasy-nosed nightmare.
But, there is help out there. Pick up the phone and call the 1-800-number. You'll be glad you did.
/end P.S.A.
[Disclaimer: I make no promises that I will not nasally abuse Vicks VapoRub in the future. I'm just sayin', if I have a bad cold, I may use again. I'll let my sponsor deal with it when the time comes...Thank you.]
Labels: adult, aunt jackie, butterfly, childhood, colds, comments, funny, lizzard, mom, products, sickness, VicksVapoRub