Something you might not know...I have an insatiable love of vintage graphic art and illustrations --- especially advertising illustrations from the early to mid-1900's. In almost every room of our apartment, you will find some sort of poster or framed postcard displaying this fact. Cappiello, Cassandre and Steinlen, oh my! In today's mostly photo-driven advertising, the beauty and attention to detail encompassed in these vivid commercial artworks are things to be missed.
While the pre-Women's Lib aspects of much of the vintage advertising (especially from the 1950's and 1960's) will not be missed, I admit, I do derive a great deal of amusement from illustrations depicting this lack of enlightenment.
I recently found this little collection of funny gems posted on Flickr by
bayouborne
. Particulary his "Atomic Housewife", "Motorola" and "Pharma Made Us Do It" photo sets. Some hilarious stuff in there and his accompanying comments are pretty funny, too!

Anyway, if you are into this stuff, there are some great Photo Pools set up on Flickr:
www.annetaintor.com
, the home of this little beauty, which proudly hangs in our apartment's dining area!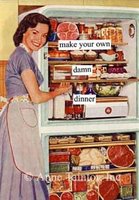 Labels: advertising, anne taintor, favorites, flickr, graphics, illustrations, vintage