As you all know, we put Trudy to sleep on August 13, 2007. She was cremated on August 14, 2007...and, we got her ashes back the following weekend in this pretty little box -- which is now on a shelf in our living room. It came with an engraved name plate which we affixed on the inside of the lid. We have been missing her terribly, but we are glad every day that she is no longer suffering.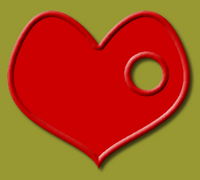 As a household, we will always have a hole in our hearts for Miss Trudy. The boys were missing their sister...Peanut, especially, was walking around meowing and howling, looking for Trudy for days. We still miss her non-stop purring, her instant appearance whenever you called for her, her love of tuna water, her insatiable need to rub her cat lips on us when she wanted to be pet... We have ALL needed some cheering up...and, we had an available spot in our place to offer someone special a new home! So...
...Meet Nutmeg! It was a difficult choice, but this little bundle stood out from the crowd at
PetSmart's Adoption Day
as the best candidate to join our little, not-so-little family. She's very outgoing and she has a cool orange spot on her head. The boys accepted her relatively easily -- we only had them segregated for one day!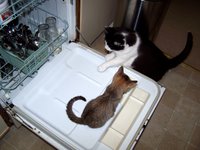 Jackson offered to give her a bath...to wash off the shelter smells...in a rather untraditional manner!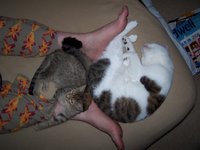 You can see that Peanut is pretty oblivious to her presence when he is sleeping with his dad...
...And, after a rough start of throwing up whenever he looked at her...from fear(!)...Noodle is now able to take a nap with her on the sacred chair...
Her first major act of mischief??? Eating through the wire on these headphones for her Daddy's XBOX 360! Surprisingly, Daddy was not that upset...probably because it gave him the perfect excuse to buy the better X2 wireless headphones from Turtle Beach...
Vive l' XBOX 360!
Merci beaucoup, ma petite Nutmeg!
Love,
Daddy XOXOXO
We also just got back from Connecticut and visiting Mommie Dearest for a Belated 4th-of-July-Birthday Celebration -- she's a Firecracker Baby! Here we are in the dark making motion trails with our super-long sparklers. You can see some of our other fun with explosives on
her blog.
Labels: birthdays, blogging, cats, ChooChoo, current events, cute, daddy, family, fireworks, funny, lizzard, love, memories, mom, noodle, Nutmeg, Nutty, pets, photos, XBOX 360