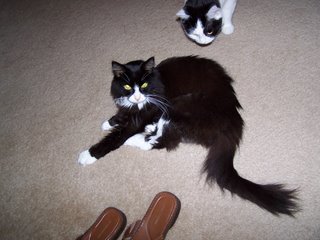 Well, things are not good with ChooChoo, but this is not terribly surprising to me. I was prepared for that...and really, an answer does make us feel better, even if it is not a nice answer...because we can feel secure in our decision...that we are going to do everything possible to keep her comfortable and happy until she is ready to go. But we are not going to intrude, biopsy, chemotherapy, etc. We want her remaining time (weeks?) to be happy and calm -- minimizing her stress for whatever time she has left before we put her to sleep.
The official situation:
1)"Bullseye" lesion in right lateral liver lobe, extending through to the right middle liver lobe. Multiple other 1-2 cm lesions throughout 3 other liver lobes, all of similar appearance, most likely, with her history, age, and clinical signs, this is carcinoma or other type of cancer. 2)Abnormal left wing of pancreas with dilated pancreatic duct. 3)Left kidney has a focal lesion of hypoechoic tissue, similar in texture to the liver lesions, concerned that this represents spread from primary process in liver. 4)Asymmetric thickening of the duodenum, mass-like appearance with enlarged mesenteric lymph nodes.
I made a little video of her when we got home to show how she is doing at this point -- still feeling pretty bright and happy (you can hear her purring in the video!) You can click on the picture below to go to the video page and watch it...We want to document a little bit each day of her so that we have some stuff to remember and be able to watch our cute little girl's videos in the future, when she is gone. ;-)
UPDATE:
When the man got home around 10PM from his class, he fed everybody wet food for dinner...and Trudy ate normal cat food with all the boys on her own!! She actually kept eating after everybody else had walked away. And then, just before he went to bed, we took her temperature to see if she still had a fever...BUT, she had a normal 100.8F temp -- which means that she does not have an infection -- she was just VERY stressed at the vet's office (there, it was about 104.5F which is about 2 degrees over the high-end of normal). We did not give her the antibiotic shot (I will ask the vet tomorrow if they want us to give them to her, but I think probably not if she has no fever...) We prepared her B12 shot, but we had to wait a little while to give it to her -- because she was busy eating her normal wet cat food, again! With the B12, hopefully this eating trend will continue. The more she eats, the better she will do for a while longer, while her liver still functions. Of Course, at the first hint of any pain or change in attitude, we will know it is time. For the time being though, she is feeling pretty good and hungry ;-D
Labels: cats, ChooChoo, current events, family, love, pets, pictures, ultrasound, vet, video