This is a post for my blogging buddy,
spleenal.
He's swapping spleenal action figures (blank ones for bloggers to decorate themselves, and then, share pictures of their creations to post on his blog!) for neato things of your own. So, Spleenal, here's what I've got in lieu of splosh porn...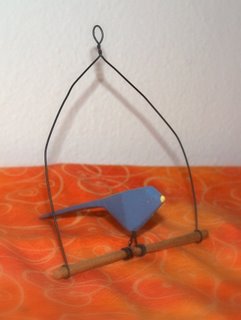 For the spleenal Christmas tree -- a handmade ornament from New Hampshire -- a wooden bluebird on a perch. Or, if you happen to be Jewish, he could hang out in a bushy houseplant just for fun? OR...
A funny little bug in a box, complete with wiggly legs that move when you shake him? OR...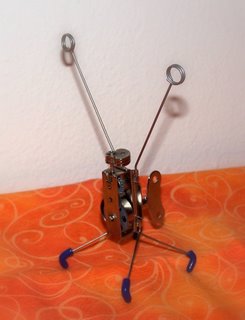 A little wire wind-up robot that jumps around on his rubber-booted feet?
Whaddya think? I tried to think of cool little things of mine that were inexpensive (as per your guideline) while still fun...in the spirit of my toys for your toys!
Labels: blogging, butterfly, friends, fun, pictures, spleenal, swap, toys, trade, web