Another thing I love...this box...it contains my collection of tavern puzzles. They often get mistaken for Medieval torture devices which rather amuses me. But, I also think they are beautiful examples of Blacksmith art.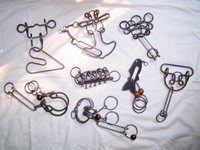 I do not have a very large collection -- I only have eight puzzles currently, but I would like to expand it further.
This is a good Christmas gift idea for anyone who wants to jot it down
[Hint: mom].
We have pictured here, left to right, top to bottom:
Row 1: Double Bypass, Blackbeard's Revenge, Dirty Dog
Row 2: Patience Puzzle, Long Island Catch, Satan's Stirrup
Row 3: Double Trouble, Matched Set
For more information on these puzzles, visit the wonderful world of
Tucker-Jones House, Inc.
Labels: art, beauty, design, favorites, games, gifts, hobbies, photos, puzzles, recreation, TuckerJonesHouse