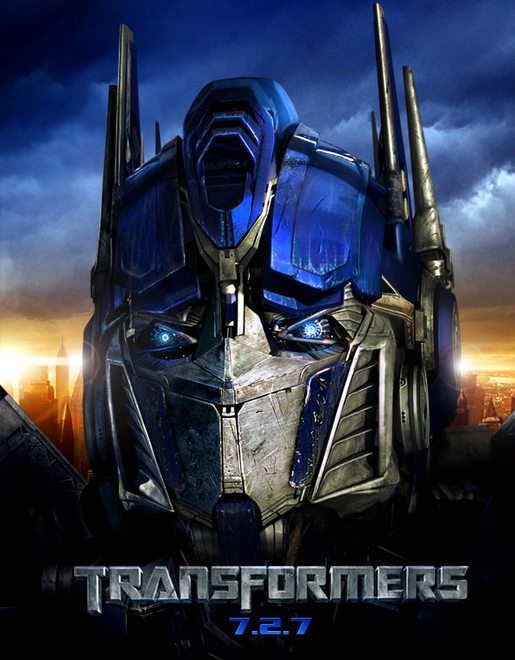 Today we saw
TRANSFORMERS
...AND IT WAS AWESOME! I loved it. LUV'D IT, BITCHES!
Acting was great -- totally believed that the actors were terrified and/or interacting "with" the robots (which is hard to do when nothing is there) -- and Shia LaBeouf was really funny. Effects were un-fucking-believable. Story kept me on the edge of my seat...so much so, that I refused to take a bathroom break...even though I needed to pee really, really badly. And, amazingly, I was in-major-love with the robots by the end -- as if they were actual people. I thought I would cry when it seemed BumbleBee was going to die. Optimus Prime, I love you. [swoon] Anthropomorphizing rules.
One question though...Why no female-voiced Transformers? Maybe the sequel will have some? Just a thought.
On the Fourth of July, we saw this little number (because
Transformers
was sold out for the whole afternoon) -- which was just fine. Why? Because this movie was Hi-lar-i-ous...HILARIOUS! Possibly...funnier than
The 40-Year-Old Virgin
...?? Maybe. I am not entirely sure. But, I think so. It is hard to quantify the hysteria-factor when the movies do not occur back-to-back for comparison, but I am willing to go out on a limb and say it was.
This has been a great week for movies, indeed. I think I want the DVDs of both of these babies when they come out. Yeah, they're that good.
What else? Oh yeah, we had a day of hell in the feline arena. This mother f*cking cat can NOT be made to take a pill or swallow a liquid medication OR HOLD STILL FOR ANYTHING OR ANYONE!!!! Maine Coons are known for not liking to be held and being rather wriggly...And Trudy is the worst. The worst! And the quantity of drool that accompanies ANY amount of stress is incomprehensible. We wasted 3 pills today just trying to get them down. They all became mush. We tried to hide them in Tuna...NO GO. We tried to dissolve them and syringe blast them down her throat...NO GO. We suffered several personal injuries and have lots of holes in our T-shirts that were not there before. We lost more than a milliliter of the precious liquid medication that needed to be swallowed, but instead was splashed all over the bathroom in a shower of drool and antibiotics. So glad we have several more weeks of this to look forward to...Finally, after the many failed attempts, lost patience, and the addition of sweatshirts and leather gloves, we finally got the crap liquid antibiotics and the pill down. I can hardly wait for the morning when we start again.... ;-(
Here is something exciting. the_butterfly aka my Twitter identity, is part of the
Big Blue Marble Twitter Mosaic
. Don't know what I am talking about? Well, this Twitter person(s)
http://twitter.com/twitter_mosaic
collects the little avatar pictures that everyone uses on Twitter to ID themselves -- and uses them to create intricate mosaic pictures of works of art, photographs, etc. [Add twitter_mosaic to your friends' list and you could be in the future mosaics!] You can see these mosaics at the Twitter Mosaic Blog which is at
http://www.twittermosaic.com/
Anyway, I was included in the "Big Blue Marble: Negative Mosaic". It is easiest to look at it first on the mosaic blog, but then, you can also see my saved copy of the image where I have circled the occurrences of my butterfly picture -- where I could spot it so far in the mosaic (not easy!) ;-D WooHoo! See it
here.
Okay, this has been one of my longest posts in a very long time. As juvenile as it was...in gushing over my
Transformer
-Love...and the
Knocked Up
versus
40-Year-Old Virgin
debate...and other stories of fame...and misery...
I am now tired and must fold some fresh laundry that is about to finish in the dryer before I go to bed. So g'nite
[Photos source: Yahoo! Movies]
http://movies.yahoo.com/summer-movies/Transformers/1808716430/photos/17/3871
http://movies.yahoo.com/summer-movies/Knocked-Up/1809701428/photos/58/1606
Labels: blogs, cats, ChooChoo, favorites, funny, love, movies, pets, pictures, robots, Transformers, twitter, web