See that beautiful tree with its orange and red leaves? Up until this morning, that tree was merrily going about its business believing that it was still Fall in Virginia. It has been so warm here, that our leaves changed very late and have been holding on to some of the trees longer than usual. But this morning, we had our first snow of the season...and let's just say that the poor tree doesn't know "whether to shit or go blind..."
It is very odd to be looking at the colorful foliage covered with snow...but the contrast sure is lovely!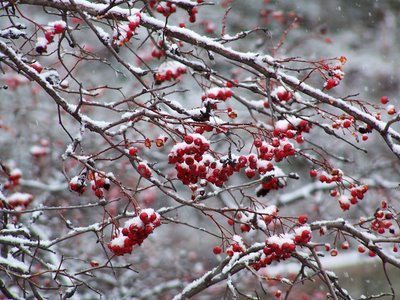 I thought the berries on this tree were pretty, surrounded by the fresh new snow...Needless to say, it is a perfect day for hot beverages and wood burning in the fireplace.
Welcome Winter! You are beautiful.
Labels: beauty, confusion, current events, favorites, fireplace, photos, pictures, pretty, snow, Virginia, weirdness, winter