The concert has been a smashing success over at
Citizen of the Month!
However, Sophia, Neil and I needed to do some fast creative brainstorming earlier today...it was brought to my attention that the original yellow (gold) Star of David was not a good idea for historical reasons. I will not dwell on those reasons here (look it up on Wikipedia if you don't know the specific history) because I don't want to take away from the positive issue at hand -- which is that we actively pursued and came to an excellent solution! The *NEW* and *IMPROVED* Blue and White Glowing Star has been incorporated into the now revised logo design.
And, if you are here for the "Concert Buttons" -- you can now download the whole pack which includes the original 5 from my previous post as well as *7 Bonus Fashion Buttons* not pictured...Slightly different versions with shadows for depth and two with a "magical glow"!
Click the button below to get .ZIP file package!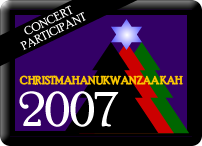 ENJOY!!!
<----------
IMPORTANT NOTE!
------------>
FOR THE HTML CODE HELP ON THESE BUTTONS -- SEE THE BOTTOM OF MY PREVIOUS POST -- OR REFER TO THE READ_ME.TXT FILE INCLUDED IN THE DOWNLOAD PACKAGE. THX!
Labels: blogging, blogs, butterfly, buttons, chk2007, citizenofthemonth, concert, friends, fun, graphics, holidays, music, neilochka, sophia, twitter