Meet my man...my man is a slug. No, of course, I am not living with an actual terrestrial gastropod mollusk! But sometimes, it feels like I am. Before you misunderstand me, I am not trying to say that the man is slow...or lazy...he's not! No, he is a wonderful guy who is kind, funny, extremely handy fixing things and he has a very cute butt. However, he is very much
like
the slug pictured at left in one particular aspect of his daily life...
He leaves a slime trail wherever he goes! Here is some evidence that he was in the kitchen recently.
Don't see what I mean? Scroll down to the closeup picture below.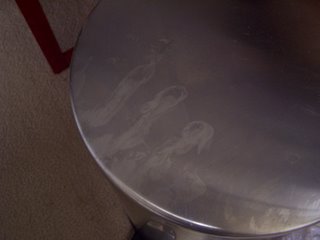 Now, do you see it? This made me laugh -- so much so that I have decided to preserve his handprint for a few-days-more-worth of chuckles -- before I whip out my
Orange Clean
to wipe it away with a rag for good.
There was a time that this kind of thing would have infuriated me. As I have matured, I see these things as an opportunity for increased household humor. I know he appreciates my decision to laugh instead -- which is why he is willing to be such a good helper whenever I occasionally ask. The best advice I can offer to others who find themselves frustrated by such things is: You'll both live longer healthier lives the more you laugh at and enjoy these differences. Besides, no one loves a nag.
[The slug photo was borrowed from
here.
]
Labels: adult, funny, health, household, kindness, love, men, pet peeves, photos, theMan, women