Today it was snowing again in Virginia. The flakes were incredibly big and heavy with wetness --- when they built up on the tree branches outside our windows, the trees were falling over from the weight. Crazy...take a look!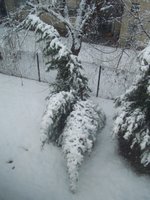 I am guessing that my
mom
and aunt Jackie were having fun snow-shoeing today in Vermont --- maybe they got some of this fresh snow falling on them to add to the hiking in the wilderness-oblivion experience?? I wanted to check in with the ladies with regard to the Vermont weather, but my mom won't answer her cell-phone...Maybe they will read this post and comment back to me!
In case you did not already know this fact, cats like to sleep. Here is a rare moment --- Noodle and ChooChoo sleeping together on the same chair! This chair is a household favorite for the monsters because it is fuzzy and cozy --- and, it has a coordinating washable cat pillow on it which allows us to keep it fur-free for actual human-sitting...like we ever get a chance. :)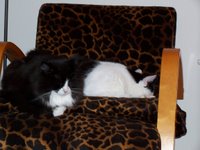 Not much else going on here. I am a little blue because it is so gloomy outside. But, luckily today is Sunday...which means the man and I watch
The L Word
at 10pm --- so that is something to cheer me up.
Here's something new! We just obtained a pack of each of the 2 new flavors of
Orbit Gum
[my exclusive chewing product of choice]!!!
Let me just say that
Raspberry Mint
KICKS ASS...starts out tasting a little bit like rasperry cough syrup, but then it mellows and becomes an intense raspberry flavor that makes your mouth chilly and fresh. I give it a Borat "very niiiice!"
The other new flavor is
Mint Mojito
which is a little weird...?
I would describe it as a combination of chilly sensation, fresh mint leaves and Lime
Pledge
furniture polish (if they actually made a Lime version, but as far as I know,
Pledge
is only Lemon flavored...) It kind of grows on you after a while, especially if you are a citrus fan. One strange thing about it I noticed --- when you blow a bubble with it and then it breaks, the resulting blast of air in your mouth smells like fresh plants, similar to the smell of leaves in Summer?? Does that make any sensory-sense to anyone?? But it doesn't thrill me as much as
Orbit's Lemon-Lime
which has a wonderful sour-tangy flavor almost like the original
Gatorade Gum
...
Orbit Citrusmint
is also quite good --- for an Orange and Grapefruit inspired chewing experience!
All gum pictures are courtesy of www.candystand.com.
Labels: cats, ChooChoo, flavors, gum, noodle, Orbit, pets, snow, Virginia