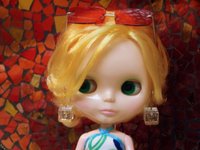 Oh, so pretty and serene. I love how she looks against my mosaic dish from Pier 1. Nice contrast to her coloring...she really pops against the fiery background...got the inspiration for my background choice from her sunglasses. Annoying reflections on her plastic skin were a challenge.
This is the shot that I used for the comment banner in my sidebar. I needed to retouch the photo so that I could get rid of her pull-string hanging down in the back. Also, I had to do a duplicate layer and flip horizontally so that I could make the background wider for the text area of my banner. I love the way it turned out. What do you all think?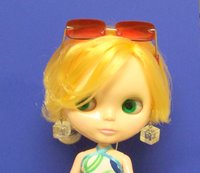 Lighting was a little weird in this one, but I like the way her hair seems to glow and you can really see her green eyes. I should take some more pictures with her other eye colors (blue, pink, and orange), but the green eyes are my favorite.
Labels: Blythe, cute, dolls, favorites, female, funny, girl stuff, pictures, pretty, vintage